My Blog
Posts for tag: root canal treatment
By Riverdale Dental Associates
May 18, 2019
May is National Save Your Tooth Month, and tooth decay is a leading cause of lost teeth. It all begins with oral bacteria growing rapidly in built-up deposits of dental plaque, and in turn producing high levels of acid. At these levels, acid can erode the minerals in tooth enamel to create holes ("cavities") that allow bacteria to enter the tooth and infect it.
If at all possible, we need to try to stop tooth decay early by disinfecting and filling these cavities. If not, decay can spread through the teeth to the underlying nerve (pulp) tissue, following passageways known as root canals. If this happens, the chances for saving the tooth are extremely low.
But if the decay does reach the tooth's innermost layer—the pulp—filling the cavities won't be enough. Decay this advanced requires a procedure known as root canal therapy, or a root canal for short.
If you winced a little, it's understandable: Root canals have gained an unfair reputation as an unpleasant experience. In reality, a root canal performed by a skilled dentist or endodontist (a specialist in root canals) isn't painful. In fact, if you come in with a painful tooth, you're very likely to leave after the procedure without any pain.
Root canal procedures can vary depending on the type of tooth and the intricacy of its root canal network. Essentially, though, we remove the diseased pulp tissue, and then clean and fill the empty pulp chamber and root canals. This stops the infection and, along with sealing and crowning the tooth, helps prevent a future re-infection.
How do you know if you need a root canal? You may find out from us if we discover advanced decay during a checkup or cleaning appointment. But you may encounter signs yourself like a throbbing toothache, pain during and after eating and drinking, or gum tenderness around a tooth. These are all possible indications of tooth decay.
If you experience any of these signs, you should see us as soon as possible for an examination. And don't cancel your appointment if the pain goes away—this could simply mean the nerves in the pulp have died and are no longer transmitting pain signals. The infection, though, could still be there and continuing its rampage beyond the tooth and into the surrounding bone tissue.
Root canal therapy may not seem glamorous, but it's an excellent option for a diseased tooth that would otherwise have to be removed. A root canal could get rid of your pain and give your troubled tooth a new lease on life!
If you would like more information about treating advanced tooth decay, please contact us or schedule an appointment for a consultation. To learn more, read the Dear Doctor magazine articles "Common Concerns About Root Canal Treatment" and "Root Canal Treatment: What You Need to Know."
By Riverdale Dental Associates
December 09, 2018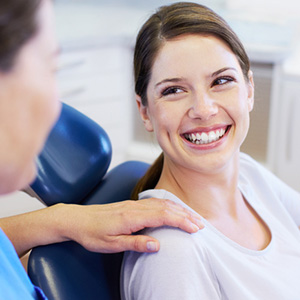 With smart phone in hand, you can instantaneously find out just about anything. Unfortunately, online search results aren't always accurate. Case in point: there's an idea floating on the World Wide Web that root canal treatments cause cancer.
Sounds ludicrous? Yes, but like other strange ideas this one has historical roots (pardon the pun). In the early 20th Century, a dentist named Weston Price propagated the idea that leaving a "dead" organ in the body caused health problems. By his view, a root canal-treated tooth fell into this category and could potentially cause, among other things, cancer.
But concern over root canal treatment safety is on shaky ground: dentistry examined Dr. Price's ideas over sixty years ago and found them wanting. But first, let's look at what a root canal treatment can actually do for your health.
Tooth decay is an infection that first attacks the outer tooth enamel and then continues to advance until it infects the inner pulp. It can then travel through the root canals to the roots and bone. Without intervention, the infection will result in tooth loss.
We use a root canal treatment to save the tooth from this fate. During the procedure we remove and disinfect all of the diseased or dead tissue within the pulp and root canals. We then fill the empty chamber and canals with a special filling and seal the tooth to prevent any further infection. And while technically the procedure renders a tooth unable to respond to thermal sensitivity or tooth decay, the tooth is still alive as it is attached to the periodontal ligament and its blood supply and nerve tissue. The tooth can still "feel" if you bite on something too hard and it doesn't affect the tooth's function or health, or a patient's overall health for that matter.
As to Dr. Price's theory, extensive studies beginning in the 1950s have examined the potential health risk of root canal treatments. The latest, a 2013 patient survey study published in a journal of the American Medical Association, not only found no evidence linking root canal treatment to cancer, but a lower risk of oral cancer in 45% of patients who had undergone multiple root canal treatments.
While root canal treatments do have potential side effects, none are remotely as serious as this online "factoid" about cancer. It's far more likely to benefit your health by saving your tooth.
If you would like more information on root canal treatment, please contact us or schedule an appointment for a consultation. You can also learn more about this topic by reading the Dear Doctor magazine article "Root Canal Safety."
By Riverdale Dental Associates
January 20, 2018
Along with the gums, your teeth's roots help stabilize them. Without them your teeth couldn't handle the normal biting forces you encounter every day. That's why a rare condition called root resorption must be treated promptly: this gradual breakdown and dissolving of root structure could eventually cause you to lose your tooth.
Resorption is normal in primary ("baby") teeth giving way for permanent teeth or sometimes during orthodontic treatment. But the form of resorption we're referring to in permanent teeth isn't normal, and is highly destructive.
The condition begins in most cases outside the tooth and works its way in, usually at the gum line around the cervical or "neck-like" region of the tooth (hence the term external cervical resorption or ECR). ECR produces pink spots on the teeth in its early stages: these are spots of weakened enamel filled with pink-colored cells that cause the actual damage. The cells create cavity-like areas that can continue to enlarge.
We don't fully understand what causes ECR, but there seems to be links with excessive force during orthodontics, tooth trauma (especially to the gum ligaments), tooth grinding habits or internal bleaching procedures. However, most people with these problems don't develop ECR, so the exact mechanism remains a bit of a mystery.
The good news, though, is that we can treat ECR effectively, provided we discover it before it inflicts too much damage. That's why regular dental visits are important, coupled with your own observation of anything out of the ordinary and immediate dental follow-up.
If the affected area is relatively small, we may be able to remove the cells causing the damage and repair the area with a tooth-colored filling. If it appears the pulp (the tooth's innermost layer) is involved, we may need to perform a root canal treatment to remove infected tissue and fill the empty space with a special filling. You may also need other procedures to reduce the chances of gum recession around the affected tooth.
Proactive dental care is your best insurance against losing a tooth to root resorption. So keep an eye on your teeth and see your dentist regularly to keep your teeth and gums healthy.
If you would like more information on the signs and treatments for root resorption, please contact us or schedule an appointment for a consultation. You can also learn more about this topic by reading the Dear Doctor magazine article "Root Resorption: An Unusual Phenomenon."