My Blog
Posts for tag: dental injuries
By Riverdale Dental Associates
December 24, 2019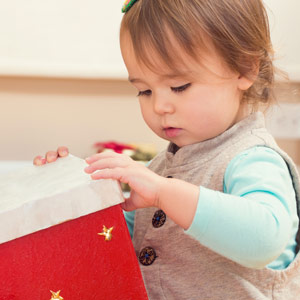 The holidays draw families together like no other season as loved ones gather from near and far to eat, drink and be merry—and exchange gifts. For the little kids that means toys (and sometimes for the big "kids" too!). Unfortunately, a toy meant to delight children could instead cause them harm, including injuries to their teeth and gums.
Be selective, then, when giving toys to the special children in your life this holiday season. Here are a few tips to remember to help protect their teeth and gums from injury.
Avoid toys with small parts. Given infants' and toddlers' propensity to put objects in their mouth, try to avoid choosing toys with small parts. While the main concern with smaller toys is the risk for choking, small, hard objects in the mouth could also cause dental damage. The danger is especially acute if a child falls while a toy or similar object is in their mouth.
Watch out for hard, sharp-edged toys. Younger children especially like to bite and gnaw on things. It's prudent, then, to stay away from hard plastic toys or those with sharp points or edges—these could chip teeth or cut into the gums. Instead, look for toys made of more pliable plastic or fabric, and with rounder surfaces. When in doubt, look for labeling on packaging that indicates the appropriate ages for a particular toy.
Discard damaged toys. With your kids' toy boxes brimming over with new holiday treasures, it's a good time to do a safety inventory of their older toys. Besides those they've outgrown, look for toys that may have been damaged or broken. Although initially they may have been safe, toys in poor condition might pose many of the dangers to teeth and gums we've previously mentioned. Damaged toys should be either repaired or discarded.
Supervise their playtime. You might also want to keep a watchful eye out as your kids play with their new toys. While they do need their own time to be imaginative during play, children could put their toys to uses not intended for them, increasing the risk of injury. A bit of gentle supervision is a good idea to prevent unintended—and unwelcome—consequences.
The holidays are a magical time for all of us, but especially for children. Follow these holiday toy tips to prevent dental injuries that could ruin your family fun.
If you would like more information about protecting your child's dental health, please contact us or schedule a consultation.
By Riverdale Dental Associates
June 15, 2015
Mouth injuries in children and teens are more common than you might think: about one out of three boys and one out of four girls will have experienced an injury before they graduate from high school. Besides contact sports, other types of accidents like car crashes or falls are high on the cause list.
Although most dental injuries aren't considered true emergencies, there are a few where prompt action may mean the difference between ultimately saving or losing a tooth. One such situation is a knocked out tooth.
In the event of a knocked out (or avulsed) tooth, your primary goal is to place the tooth back into the empty socket as quickly as possible. Teeth that have been out of the mouth for less than five minutes have the best chance of reattachment and survival. The first step is to quickly locate the missing tooth.
Once you've found it, use only cold, clean water run or poured over the tooth to carefully clean off dirt or debris (no soaps or cleansers). You should also avoid touching the tooth root or scrubbing any part of it. After cleaning it of debris, gently place the tooth back in its socket, then immediately contact us or visit an emergency room. While you're en route to our office the patient should carefully hold the tooth in place. If the tooth can't be immediately placed into the socket (the patient is unconscious, for example), then you should place the tooth in a clean container and keep it moist with cold milk, a sterile saline solution or even the patient's saliva.
Taking these steps increases the chances of a successful re-implantation, although the injury may ultimately affect the tooth's lifespan. Replanted teeth can suffer from root resorption (where the root tissue dissolves) or a process known as ankylosis in which the tooth fuses directly to the jawbone with no healthy periodontal ligament in between. Either of these conditions can lead to tooth loss.
Still, it's worthwhile to try to save the tooth, even if for a few more years. Those extra years can help you prepare for a future restoration.
If you would like more information on responding to dental injuries, please contact us or schedule an appointment for a consultation. You can also learn more about this topic by reading the Dear Doctor magazine article "Accidental Tooth Loss."