My Blog
Posts for: June, 2019
By Riverdale Dental Associates
June 17, 2019
If you have chronic jaw pain, you may be one of an estimated 10 million Americans suffering from temporomandibular joint disorders (TMD). If so, it's quite possible you're also coping with other health conditions.
TMD is an umbrella term for disorders affecting the temporomandibular (jaw) joints, muscles and adjoining tissues. The most common symptoms are limited jaw function and severe pain. Determining the causes for these disorders can be difficult, but trauma, bite or dental problems, stress and teeth clenching habits seem to be the top factors. Women of childbearing age are most susceptible to these disorders.
In recent years we've also learned that many people with TMD also experience other conditions. In a recent survey of TMD patients, two-thirds reported having three or more other health conditions, the most frequent being fibromyalgia, chronic fatigue syndrome, rheumatoid arthritis or chronic headaches. Researchers are actively exploring if any systemic connections exist between TMD and these other conditions, and how these connections might affect treatment changes and advances for all of them including TMD.
In the meantime, there remain two basic approaches for treating TMD symptoms. The most aggressive and invasive approach is to surgically correct perceived defects in the jaw structure. Unfortunately, the results from this approach have been mixed in their effectiveness, with some patients even reporting worse symptoms afterward.
The more conservative approach is to treat TMD orthopedically, like other joint problems. These less invasive techniques include the use of moist heat or ice to reduce swelling, physical therapy and medication to relieve pain or reduce muscle spasming. Patients are also encouraged to adopt softer diets with foods that are easier to chew. And dentists can also provide custom-fitted bite guards to help ease the stress on the joints and muscles as well as reduce any teeth grinding habits.
As we learn more about TMD and its relationship to other health conditions, we hope to improve diagnosis and treatment. Until then, most dentists and physicians recommend TMD patients try the more conservative treatments first, and only consider surgery if this proves unsatisfactory. It may take some trial and error, but there are ways now to ease the discomfort of TMD.
If you would like more information on the causes and treatments of TMD, please contact us or schedule an appointment for a consultation. You can also learn more about this topic by reading the Dear Doctor magazine article "Chronic Jaw Pain and Associated Conditions."
By Riverdale Dental Associates
June 07, 2019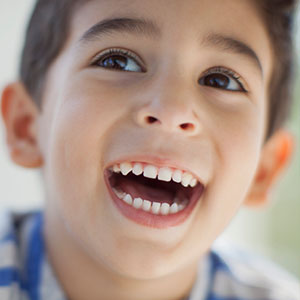 Ask any kid and they'll tell you just how valuable "baby" teeth really are—out of the mouth, of course, and under their pillow awaiting a transaction with the Tooth Fairy. But there's more to them than their value on the Fairy Exchange Market—they play a critical role in future dental health.
Primary teeth provide the same kind of dental function as their future replacements. Children weaned from nursing can now eat solid food. They provide contact points for the tongue as a child learns to speak. And they play a role socially, as children with a "toothsome" smile begin to look more like what they will become when they're fully mature.
But primary teeth also serve as guides for the permanent teeth that will follow. As a future tooth develops below the gum line, the primary tooth preserves the space in which it will erupt. Otherwise, the space can be taken over by other teeth. This crowds out the intended tooth, which may erupt out of position or remain impacted below the gum line.
In either case, the situation could create a poor bite (malocclusion) that can be quite costly to correct. But if we can preserve a primary tooth on the verge of premature loss, we may be able to reduce the impact of a developing malocclusion or even prevent it.
We can help primary teeth last for their intended lifespan by preventing tooth decay with daily oral hygiene or clinically-applied sealants and topical fluoride. If they do become infected, it may be worth the effort to preserve them using procedures similar to a root canal treatment.
If a tooth can't be preserved, then we can try to reserve the empty space for the future tooth. One way is a space maintainer, which is a stiff wire loop attached to metal band bonded around an adjacent tooth. This keeps other teeth from drifting into the space until the permanent tooth is ready to erupt, at which time we can remove the appliance.
Your child may be anxious to get another tooth to put under their pillow. But helping that primary tooth go the distance will be more than worth it for their future dental health.
If you would like more information on the care and treatment of baby teeth, please contact us or schedule an appointment for a consultation. You can also learn more about this topic by reading the Dear Doctor magazine article "Importance of Baby Teeth."