My Blog
Posts for: May, 2019
By Riverdale Dental Associates
May 18, 2019
May is National Save Your Tooth Month, and tooth decay is a leading cause of lost teeth. It all begins with oral bacteria growing rapidly in built-up deposits of dental plaque, and in turn producing high levels of acid. At these levels, acid can erode the minerals in tooth enamel to create holes ("cavities") that allow bacteria to enter the tooth and infect it.
If at all possible, we need to try to stop tooth decay early by disinfecting and filling these cavities. If not, decay can spread through the teeth to the underlying nerve (pulp) tissue, following passageways known as root canals. If this happens, the chances for saving the tooth are extremely low.
But if the decay does reach the tooth's innermost layer—the pulp—filling the cavities won't be enough. Decay this advanced requires a procedure known as root canal therapy, or a root canal for short.
If you winced a little, it's understandable: Root canals have gained an unfair reputation as an unpleasant experience. In reality, a root canal performed by a skilled dentist or endodontist (a specialist in root canals) isn't painful. In fact, if you come in with a painful tooth, you're very likely to leave after the procedure without any pain.
Root canal procedures can vary depending on the type of tooth and the intricacy of its root canal network. Essentially, though, we remove the diseased pulp tissue, and then clean and fill the empty pulp chamber and root canals. This stops the infection and, along with sealing and crowning the tooth, helps prevent a future re-infection.
How do you know if you need a root canal? You may find out from us if we discover advanced decay during a checkup or cleaning appointment. But you may encounter signs yourself like a throbbing toothache, pain during and after eating and drinking, or gum tenderness around a tooth. These are all possible indications of tooth decay.
If you experience any of these signs, you should see us as soon as possible for an examination. And don't cancel your appointment if the pain goes away—this could simply mean the nerves in the pulp have died and are no longer transmitting pain signals. The infection, though, could still be there and continuing its rampage beyond the tooth and into the surrounding bone tissue.
Root canal therapy may not seem glamorous, but it's an excellent option for a diseased tooth that would otherwise have to be removed. A root canal could get rid of your pain and give your troubled tooth a new lease on life!
If you would like more information about treating advanced tooth decay, please contact us or schedule an appointment for a consultation. To learn more, read the Dear Doctor magazine articles "Common Concerns About Root Canal Treatment" and "Root Canal Treatment: What You Need to Know."
By Riverdale Dental Associates
May 08, 2019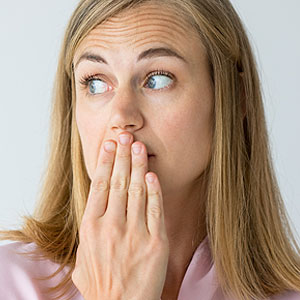 A loose adult tooth isn't normal. It could be loose because it's been subjected to high biting forces like those that occur with a tooth grinding habit. Or, it could be the result of periodontal (gum) disease or some other infection that has weakened some of the tooth's supporting gums and bone. Whatever the underlying cause, we'll need to act quickly to save your tooth.
Our first step is to find out this exact cause—that will determine what treatment course we need to follow. For a tooth grinding habit, for example, you might need to wear an occlusal guard or have your bite (teeth) adjusted. With gum disease, we'll focus on removing dental plaque, the thin film of bacteria and tartar (calculus) fueling the infection. This stops the infection and minimizes any further damage.
While we're treating the cause, we may also need to secure the loose tooth with splinting. This is a group of techniques used to join loose teeth to more stable neighboring teeth, similar to connecting pickets in a fence. Splinting can be either temporary or permanent.
Temporary splinting usually involves composite materials with or without strips of metal to bond the loose tooth to its neighbors as the periodontal structures heal. Once the tooth's natural attachments return to health, we may then remove the splint.
There are a couple of basic techniques we can use for temporary splinting. One way is to bond the splint material to the enamel across the loose tooth and the teeth chosen to support it (extra-coronal splinting). We can also cut a small channel across all the affected teeth and then insert metal ligatures and bond the splint material within the channel (intra-coronal).
If we're not confident the loose tooth will regain its natural gum attachment, we would then consider a permanent splint. The most prominent method involves crowning the loose tooth and supporting teeth with porcelain crowns. We then fuse the crowns together to create the needed stability for the loose teeth.
Whatever splinting method we use, it's important to always address the root cause for a tooth's looseness. That's why splinting usually accompanies other treatments. Splinting loose teeth will help ensure your overall treatment is successful.
If you would like more information on treating loose teeth, please contact us or schedule an appointment for a consultation. You can also learn more about this topic by reading the Dear Doctor magazine article "Treatment for Loose Teeth."